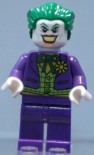 The
Joker
is
Batman
's archenemy. His Real Name is Jack Napier and fell into acid and got an Everlasting Laugh and named himself:The Joker.His main color scheme is purple,white, and green.
He has Dollar Bill's hair from Agents.His legs are purple just like Joker Henchman.Those are the only pieces used before.He has 1 jacket and two shirts on.His jacket is purple with a light green flower on it.His first shirt is striped dark green.Light green is the shirt color.The first shirt is buttoned up. His second shirt is yellow with a dark green bow on it.His face is white like a clown.He has green eyebrows with cheek bones.He also has a smile with his teeth showing.He also has ruby red lips.His other face has a smile without teeth showing.He has yellow teeth.He has white hands.he also comes with a tommy gun with a flag in 6863 to represent his BANG! gun.In 6857,He has a detinator or walkie talkie thingy.His back has printings.Which has a little bit of his first shirt showing.
Wolverine except in green.Just like his 2012 variation,he has 1 jacket and 2 shirts.He has a purple jacket like his 2012 variation.His first one is an orange buttoned up shirt.he has two buttons in this version and 3 buttons in his 2012 version.He has a black shirt under that with a green bow on it.he has a flower on his purple jacket but it's less detailed than it's 2012 version.He has a smile with his teeth showing.His teeth are white rather than yellow.He has a megaphone piece combined with a black stick and a flag with a sticker that says BANG! on both sides to represent his bang gun.