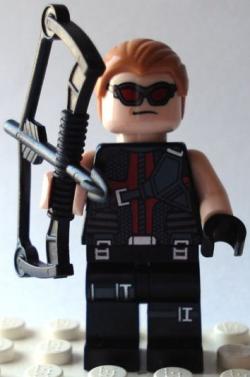 Hawkeye, or Clint Barton, is a minifigure for the Super Heroes Theme.
Description
Edit
Hawkeye will have a double sided face depicting him serious with glasses and angry without them, and Bruce Wayne's hair in dark orange. His torso depicts armour with a dark red arrowhead stripe down the center, along with his quiver strap and part of a belt on the bottom. He has back printing depicting his armour and the back of the strap with his quiver full of arrows.He has black legs with the hips continuing the belt and straps on his legs. His arms and one hand is in flesh, but the other is black. He comes with a new compound bow part.
He is based on his appearance in The Avengers.
Background
Edit
In Thor, Hawkeye is briefly seen as a sniper fighting with a bow and arrow during Thor's storming of a S.H.I.E.L.D. compound erected around his hammer, Mjolnir, which Thor is trying to reclaim. He never fired an arrow and is reffered to as " Agent Barton". He is a SHIELD agent under Nick Fury.
In The Avengers, he joins the Avengers, which also consists of Captain America, Iron Man, [[The Hulk]], Thor, and Black Widow, to try to repel Loki's alien army bent on destroying Earth.
His quiver is printed on his back, rather than it being the actual part, which is odd considering his hair, which is Bruce Wayne's new one, dosen't prevent it. It is suggested this is because he can't fit in the seat of the Quinjet, the truck, or his jet without removing it.
In the preliminary version, his headpiece and hairpiece are the same as Mutt Williams from Indiana Jones.
Appearances
Edit